by Carl Kruse

This post is taken from information provided by the SETI Institute on their upcoming online chat "Is a 6th Mass Extinction the Future for Earth?" The chat will stream Wednesday, September 22, 2021 at 7:00 PM Pacific time. The Carl Kruse Nonprofits Blog encourages all to join for what promises to be a great discussion.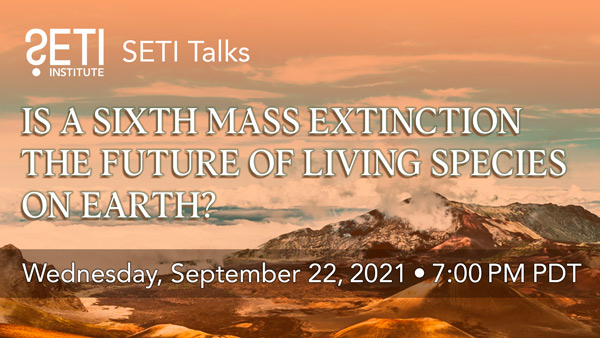 The world faces a climate crisis and an alarming decrease in flora and fauna. Some researchers talk of an ongoing 6th mass extinction event on Earth with thousands of species at risk of vanishing, many of these possibly lost in the next two decades. About the same lost in the last 100 years.
Scientists estimate 5 large extinction episodes in the last 500 million years, each killing up to 90 percent of all life on Earth at the time. These events were variably caused by asteroid impact, volcanic activity and decrease of oceanic oxygen.

In this latest SETI Talks, the SETI Institute brings 2 researchers from the California Academy of Sciences to talk about how we can survive this situation. The discussion will draw on research from evolution, ecology and history.

The first guest is Peter Roopnarine who has been at the Academy since 1999 where is current research is on exploring global biological change, and how studying Earth's previous ecosystems might help us better forecast the future. He is joined by Scott Sampson, the executive director of the Academy.
Franck Marchis of the SETI Institute moderates the chat, which will focus on what is at stake and what can we do about the ongoing crisis. The discussion will draw on knowledge of past mass extinctions and what current research sees of ongoing extinctions.
SETI Talks are free of charge. If you are interested in helping sponsor a future SETI Talks, please send a message to development@seti.org .
This SETI Talk is online. Please make sure to register for access to the event. Registration is available here.

=============

The Carl Kruse Nonprofits Blog Homepage is at https://carlkruse.org
Contact: carl AT carlkruse DOT com
The blog's last article was on Jocelyn Bell Burnell's discovery of pulsars.
Other blog posts focusing on SETI or the SETI Institute include Can We Define Life, Kepler Update and SETI, Amateur Alien Hunters, and Are We Alone?
Carl Kruse can also be found on TED at Carl Kruse TED profile.