In the midst of the cultural brouhaha I wrote a recent article on whether to honor Confederate generals (we should not), but today received an image of a decapitated Christopher Columbus that hit closer home. As someone who grew up in Puerto Rico, an island Columbus landed on, whose first governor was Juan Ponce de Leon — Fountain of Youth fame and what not — I grew up revering Spanish explorers and Conquistadors. Fed on stories of their badassness, they were always, or at least until recently, to me heroes.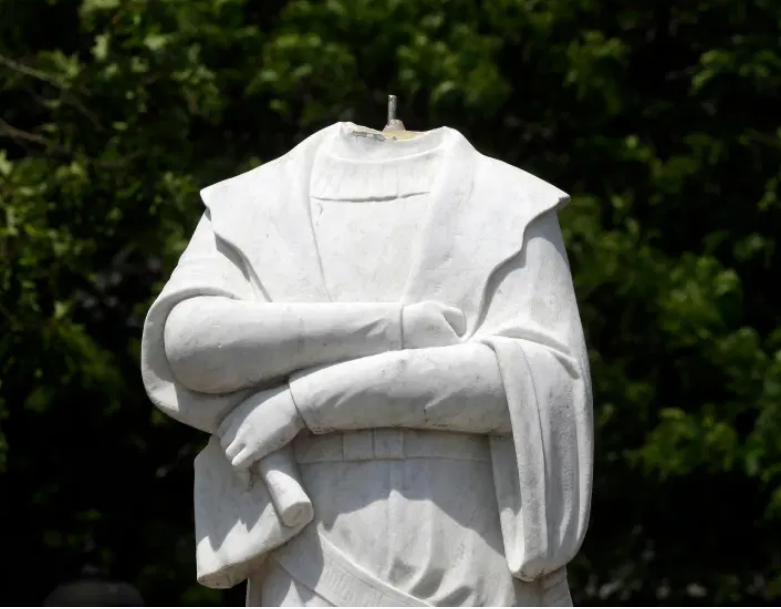 Independent of who Columbus was as an individual, and that seems somewhat complex, there's no doubt he was a great adventurer and explorer. Unfortunately, Columbus also opened the door to wholesale destruction and enslavement of native populations via germs, guns, steel, and avarice. Today his accomplishments, viewed from different angles, are harder to categorize. From the view of Native Americans, Columbus, the great navigator and risk-taker, does not cut such a good figure. This doesn't mean he was less of a badass, but in some way less of an honorable figure.
As honey-hearted people with conscience, we must recognize the suffering that Columbus's voyages and discoveries triggered, which still reverberate today.
More than re-writing history it seems important to ask what is it that we should honor? What enriches us? What elevates us? What moves us forward?
There isn't a single monument to Hitler in all of Germany or anywhere else I know of, historically important as he may have been. And I can think of perhaps only one other person more historically significant in all of the 20th century, which is Albert Einstein. Statues and honors to Einstein rightfully abound. And as far as I know no one advocates bringing down statues of Einstein. The same might be said of Gandhi, and other greats of recent history.
The first thing Iraqis did after liberation was to take down the statues of Saddam Hussein and I don't know of a single statue of Lenin not imperiled anywhere. Why honor evil?
The Pyramids and Buddha statues and artifacts thousands of years into antiquity can't possibly pose a threat to modernity except to the most obtuse and wacky among us, e.g., the Taliban.
But for the descendants of slaves today, statues of their former oppressors have real shock value. To the survivors of Hitler's evil a monument honoring him would mean something that you and me would never understand. Might not a statue of Columbus have a similar effect to Native American people? And if so, is it time to consign him elsewhere than our public spaces?

Carl Kruse
Contact: Carl AT carlkruse DOT org
P.S. On a matter I think we could all get behind and honor, check out my latest post on the Voyager Golden Records.
Find Carl Kruse on Hackernoon.