by Carl Kruse

Peering at the stars many of us wonder if anyone else is out there. At least I wonder and assume everyone does as well. And in the vastness of space someone else is likely looking back, wondering the same. And if not what a waste of space. Even if the probability of two intelligent life forms crossing each other in the cosmos is small, we can still hope.
Back in the late 70's, two unmanned spacecraft launched into the void to study other planets. The craft were loaded with images and audio representative of humanity just in case anyone ever found them. A hello from us, from Earth, a cosmic message in a bottle.
The Voyager Program
In 1977 the two robotic probes, Voyager 1 and Voyager 2, launched to study Jupiter and Saturn. Originally designed for a five-year lifespan they outlived this by 30 years and ended up also studying other parts of our planetary system. They are still going today. In August 2012, Voyager 1 became the first man-made object to reach interstellar space. "Voyager did things no one predicted, found scenes no one expected, and promises to outlive its inventors," wrote author Stephen J. Pyne.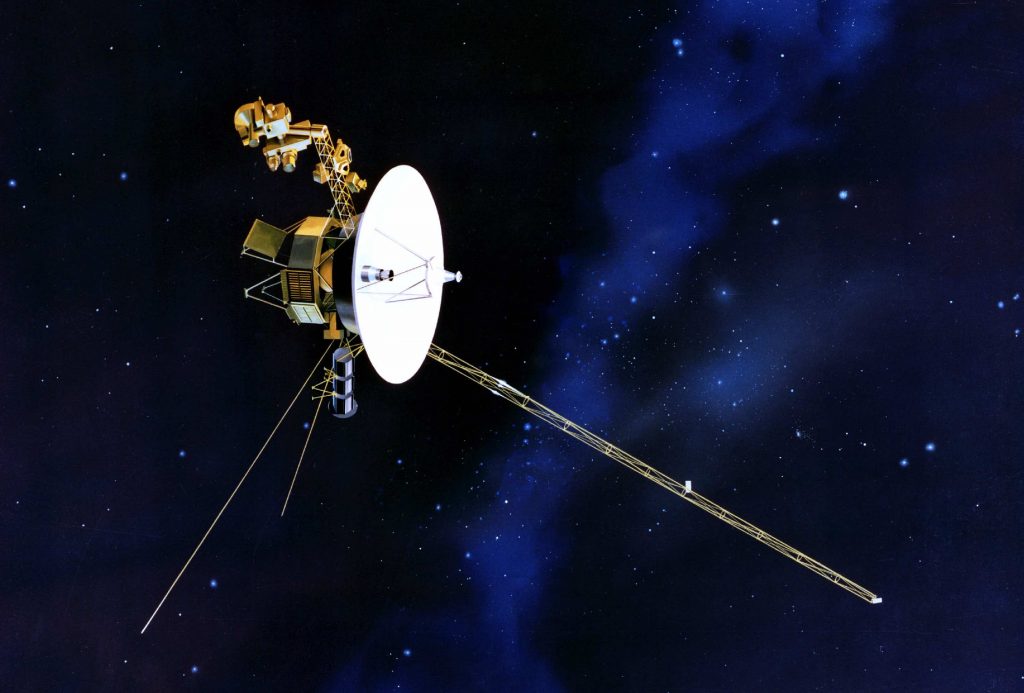 The Voyagers were funded by NASA and cost $865 million. While cameras were eventually turned off to conserve power, they were briefly restarted on February 14, 1990 to capture magnificent photos of the solar system including the sun, Venus, Earth, Jupiter, Saturn, Uranus and Neptune. The cameras were eventually turned off permanently.
Little equipment at the time was loaded on the Voyager probes due to weight, but an initiative was granted to add a time capsule of sorts to serve as an introduction to any intelligent life that might find the Voyagers in deep space.
What's On The Voyager Golden Records?
So, the decision was made to send a snapshot of human culture into space. What goes on it and who decides this? How about legendary astronomer Carl Sagan? Carl Sagan was many things, including "science popularizer," as he imbued a love of science in people through books and television shows. He's the original host of "Cosmos," a TV program that introduced complex scientific topics to everyone. Sagan realized the chances of the Voyager recordings ever being found were slim and said, "The spacecraft will be encountered and the record played only if there are advanced space-faring civilizations in interstellar space, but the launching of this 'bottle' into the cosmic 'ocean' says something very hopeful about life on this planet." I also found the idea of sending a message in a bottle to be hopeful.
A committee was formed, with Sagan as chair, which spent a year deciding what would get immortalized and sent into space. The images and audio selected were recorded on gold plated records and sent along with instructions on how to build a record player and play the records. Due to space limitations they could not send a record player on the Voyager. Hopefully an extraterrestrial race intelligent enough to be exploring space can recreate the record player technology.
Images On The Voyager Recordings
Images in both black and white and color are included (along with the somewhat complex instructions on how to obtain the images from a record). The photos include humans from various cultures and also animals and our environment. You can see human daily activity, the food we eat, and how we celebrate. Some images are annotated with information about size and location.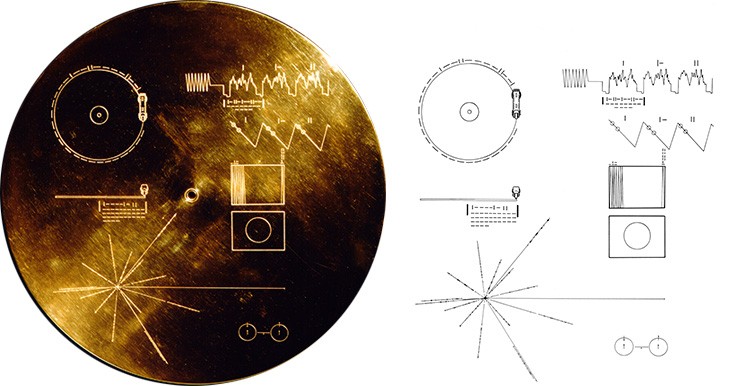 Vox wrote a good article on the 116 photographs that were included on the record here: https://www.vox.com/2015/11/11/9702090/voyager-golden-record-pictures.
Jimmy Carter, U.S. President at the time also sent some words along: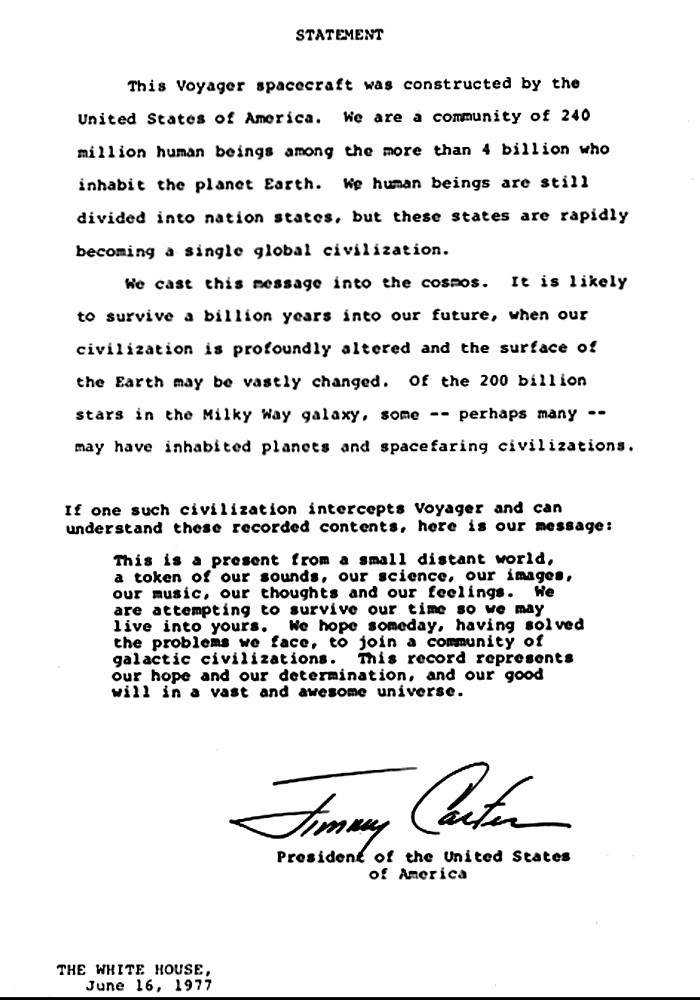 Audio On The Voyager Recordings
Sounds of children laughing, people talking, nature sounds and animal noises are all included in the recordings. There is also a large musical selection. It includes classical music from Mozart, Beethoven, and other great composers. It also has pop music from several decades. In a popular Saturday Night Live Sketch, aliens find our Golden Record and send back the message, "send more Chuck Berry!"
There is some controversy over the committee asking to include The Beatles song "Here Comes The Sun." Apparently, the band was all for the idea but they didn't own the rights to their own song and the price was too high. So, it got left off. Other controversies included whether or not to include artwork with nudity in it, even though they did send detailed anatomy diagrams and outlines of human reproduction.
Miscellaneous Things Included Just In Case
The Golden Record also contains an hour-long recording of the brainwaves of Ann Druyan as she thought of many topics including what it feels like to fall in love. Druyan was the co-writer of Cosmos and the wife of Carl Sagan. It also contains photos and diagrams of human and animal DNA, artwork, architectural drawings, and much more. You can never be sure what hobbies and interests our new space friends might have, right?
How To Obtain A Copy
It started as a Kickstarter campaign and now you can own a replica of the golden records. They come on vinyl or on CD and can be bought online from Ozma Records, in what surely would make a great Father's Day, Christmas, or Birthday gift for anyone that loves science and space exploration. You can also listen to the audio for free on SoundCloud at https://soundcloud.com/the-film-effect/voyager-golden-record-music-from-earth
Here's to the ongoing exploration of our world and beyond.
Carl Kruse
Contact: carl AT carlkruse DOT org
NOTE: Unlike the other articles in this blog, which are written by Carl Kruse, this article was mostly written by Deanna B and edited by Carl Kruse.
P.S. For all things Voyager check out: https://voyager.jpl.nasa.gov/
P.P.S. In my last article I wrote about Rosetta@Home and the advances it is making in biology and medicine with the help of amateur scientists using distributed computing. You can read it here. And what led to that article was the pause of the SETI@HOME distributed software in which amateur scientists used their computer to help scan the skies for signs of extraterrestrial intelligence. The Carl Kruse Blog post on SETI@HOME covers it.