by Carl Kruse
"What's a great place in Miami that has nothing to do with partying," ask several friends arriving in the city. And I send one and all to Fairchild Tropical Botanic Garden (FTBG). There are few places like it. Exotic plants A to Z. A research and education facility. A festival venue. A laboratory. A homage to conservation. Home to the world's largest palm collection. An oasis. A uniquely Miami institution that serves the world by studying and encouraging conservation of tropical plants. It's a heck of a place to spend an afternoon. And more.
Strolling the 83 acres, if nothing more, is a beautiful experience, at once invigorating and contemplative. You love plants? Multiply what I just said by ten. You don't like plants? You will still love Fairchild.
There are four ways as far as I make it to take in the gardens. I like them all.
My first suggestion is to catch the guided tram tour, a docent-driven, train-like vehicle that spirits you around, while a garden expert regales you with all things Fairchild. A great way to get an overview of the place, its history, layout and of some interesting features, such as the rain forest, butterfly garden, Window To The Tropics, as well as an introduction to the garden's landscape architecture.
Another way of exploring is to take a guided walking tour accompanied by an experienced staff member. Get up close with a deeper look at the gardens. I have taken the tram and walking tours many times, each time learning something anew.
A third way of seeing Fairchild is on a self-guided tour, on your own, and I suggest doing this only after a guided tour with a docent. And as I am invariably asked, "Carl, can't you simply visit the gardens diving in solo sans guide?" Yes of course, which is the last of the ways I suggest visiting.
Going at it alone is still great given the majesty of the place and if just to be surrounded by the beautiful flora is all you need and a break from the city, this will do mighty fine. You will see why so many people choose to get married here, and hey, while you are at it bring a picnic, a bottle of wine, settle in, and see if you catch a glimpse of the local iguanas at play. But do try one of the guided tours if you can for your own enrichment.
There's just so much goodness. Say hello to unique treasures such as sausage trees, banyan trees, chicle trees, baobab trees, ylang-ylang trees (whose essence provides the oil for Channel #5 perfume), more palms than you can shake a branch at, and the world's largest cycad collection, which are themselves time machines to prehistory as some of them lived in essentially unchanged form when dinosaurs roamed the planet. And if you time your visit right you might encounter some seriously unique specimens such as the Sumatran Titan Arum, a six-foot tall plant straight from Little Shop of Horrors that rarely blooms but when it does smells like a dead animal. Nicknamed Mr Stinky, back in 1998 it became the first of its kind to bloom in the U.S. in decades, doing so at Fairchild. Come now.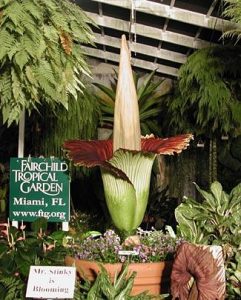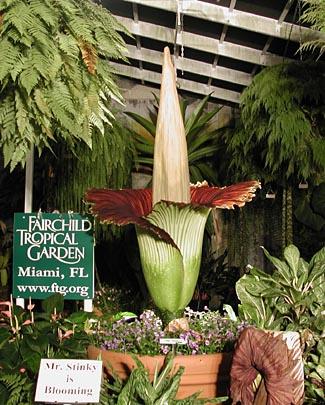 Amorphophallus titanum, a.k.a, Mr Stinky
Some exotic specimens serve more than curiosities of the natural world. For example, there are more Haitian Kowos palms (Attalea crassipatha) at Fairchild than are found in the wild in its native Haiti, of which probably less than three dozen remain in what is perhaps the most endangered palm on the planet. Researchers at Fairchild are studying ways to breed the Kowos and of possible re-introduction to its native home, generating some serious good karma for Fairchild.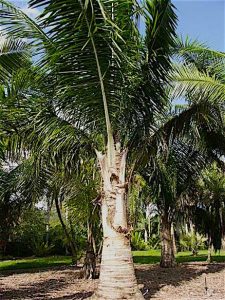 The Haitian Kowos Palm at Fairchild (Photo: Carl Kruse)

Locally, Fairchild has helped reintroduce some 20 endangered species of native South Florida plants, from the Sargent's Cherry Palm to the Broad Halberd fern, and in the process help reclaim habitat from non-native invasive species. More good karma.
If you live in Miami or nearby, and love (and have space) for plants, consider checking out the yearly Plant Sale, where plants grown by Fairchild staff are sold to members during one weekend a year, usually the first week in October. This is no normal plant affair. And those doing the selling are not your typical horticulturists. You have to be a member to attend but becoming a member is a good idea as it gives access to the gardens all year around for free, among other goodies. Examples of plants sold in previous sales include the exotic Bailey Palm (Copernicia baileyana) from Cuba, whose trunk looks like a concrete column, and the Silver Palm (Cocothrinax argentata), native to the Bahamas and South Florida, whose leaves have a silverish underside. You won't find these plants anywhere near a commercial nursery, and certainly not at Home Depot. At my house several Baileys grow in the backyard, courtesy of the Fairchild plant sale. Serious goodness and life improvement. And a continuing accumulation of good Karma for Fairchild.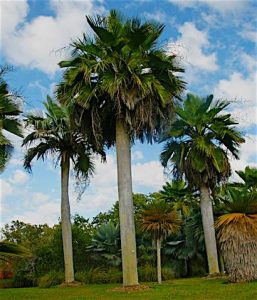 Bailey Palms at Fairchild (Photo: Carl Kruse)

Besides the punch it packs as a botanical garden and world-class research center, Fairchild knows how to let its hair down. It is home to several festivals, such as the Mango Days, the Chocolate Festival, and the Orchid Festival. During Valentine's Day, it organizes a dinner and concert guaranteed to warm any lover's heart and throughout the year hosts a number of art exhibits, concerts and other goodness. And at any time there are lectures, chats and classes given by experts in such fields as botany, painting, photography and such. I will say it again – I love this place.
I have been a member of Fairchild going on 25 years and there are few institutions I am more happy to be associated with. One of my favorite nonprofit organizations anywhere, combining heart, purpose, beauty, fun, knowledge, discovery, and showcasing the best of South Florida and elevating all of humanity. Who said Miami was just about partying?
Looking for another wonderful organization to support that is also attempting to understand and conserve our natural environment? Check out the work of the Monterey Bay Aquarium in California: https://carlkruse.org/the-best-aquarium-in-the-world/
Check out my other personal blog at: https://www.carlkruse.com
Contact: carl AT carlkruse DOT com
This blog's last post was on the Winter Solstice.