Carl Kruse Dot Org Profiles: The Monterey Bay Aquarium
by Carl Kruse
In California there is an aquarium that all other aquariums should be modeled after, in spirit, and in outlook. Transformed from an abandoned cannery on water's edge at Monterey Bay, it is at once beautiful and imposing. Steinbeck once wrote of this area and of its sardine industry in his novel "Cannery Row," though today it is touristy restaurants and well-tended souvenir shops that hold court. The sardines were fished out years ago, never returned and with their departure went the canneries. But today there is the aquarium.
When I hear the word "aquarium" my first thoughts are to Seaworldesque shows and schlocky exhibits. But all is good in Monterey. Researchers pursuing knowledge of the oceans and its denizens. A center for conservation. People trying to make the world a better place. A visit is an uplifting experience.
There's much to like. From its design, which incorporates elements of the former cannery, to the staff, to its mission of understanding the bay that is its home and of inspiring conservation of oceans everywhere. It is a special place of which we could only hope more could exist in the world.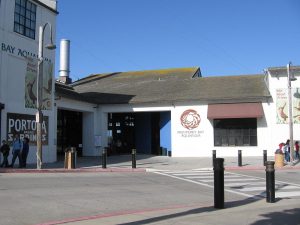 Aquarium Entrance (Photo: Carl Kruse)

A quick overview of its aquariumish traits. The facility is a quasi-extension of the ocean biosphere, accomplished by pumping 2,000 gallons of seawater directly from the bay every minute into the exhibits, allowing the keeping of wildlife such as giant kelp, which normally do not survive in regular aquariums. The kelp do nicely here with the influx of nutrient-rich seawater, growing several inches a day and this was the first aquarium in the world to exhibit these giant plants as it was the only one for some time that could provide the right environment. You can espy the top leaves of wild kelp peering from the ocean surface about 100 yards out in the bay but here you see them, top to bottom, as if they had emerged from a Jack-And-The-Beanstalkish fairy tale.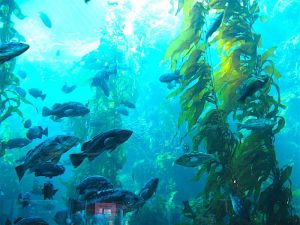 Giant Kelp (Photo: Carl Kruse)

While the kelp are magical, few wildlife exhibits anywhere are as captivating as the jellyfish at Monterey Bay Aquarium. Equal parts informative and artistic, mesmerizing and contemplative. A visitor enters a u-shaped, dark corridor to encounter softly lit tanks that border on the psychedelic. Here Sea Nettles, Comb Jellies, Moon Jellies, Box Jellies, Blubber Jellies, and other esoteric relatives enthrall everyone with ethereal movements. I say everyone because everyone is enthralled. Some of the jellyfish live at incredible depths — and corresponding pressures — and only survive in special tanks. During one of my visits I sat before an exhibit quite some time, oblivious to the clock, carried away by the dim light, the softness, the jellyfish. One of the staff members approached and told me he also falls into quasi-trances sometimes when watching these creatures and suggested I get a DVD from the gift shop that features the jellyfish. Unsure whether he was pulling my leg, I went ahead and got a copy, later purchased more as gifts, and years later (and upwards of a dozen presents to others) it is now my favorite ambient video. If you can find it get a copy. I reviewed it on Amazon: https://www.amazon.com/review/R26ULP9I1ETMSL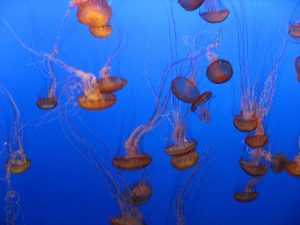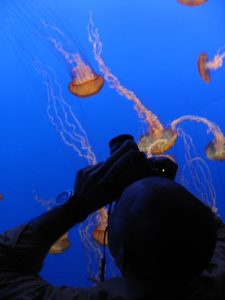 Jellyfish (Photos: Carl Kruse)

There are other unique exhibits such as the beloved sea otters, sharks and sunfish, and other delights, but I do not want to write a blow-by-blow description of the aquarium leaving it to you to visit.
As aquariums go, this one delivers everything anyone could expect (and more) from a place hosting aquatic exhibits.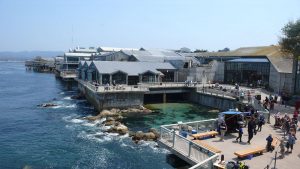 Aquarium From The Back (Photo: Carl Kruse)

But what makes the Monterey Bay so special is its pursuit of knowledge and its mission to help conserve oceans everywhere.   This is not simply a place with beautiful aquatic exhibits. The organization carries out important research and works with officials to promote the protection of fragile species, to tackle threats to sustainable fisheries and aquaculture, and to address issues affecting coastal communities, including global warming and pollution.
In helping conserve oceans and fisheries, the Monterey Bay Aquarium believes the most important act we make is with the type of seafood we purchase. To this end, the aquarium publishes a seafood guide under its "Seafood-Watch" program, which helps people choose seafood caught or farmed in ways that support healthy oceans, especially for the future. The guide highlights seafood selections as "Best Choices" or "Good Alternatives," and which are best avoided.  Check it out here.
The Monterey Bay Aquarium is a nonprofit organization worthy of support as it tries to make the world a better place for all of us. It is my hope you will take a moment to learn more about its work and efforts.
Carl Kruse
Other good blog posts on the Monterey Bay Aquarium include:
https://www.thegal-ivanter.com/blog/plan-tips-map-monterey-bay-aquarium-see-to-do
contact  – carl AT carlkruse DOT org
P.S.  Another great California-based nonprofit group is The SETI Institute. 
I wrote about them here.
Carl Kruse is also on Buzzfeed.
The blog's last post was on Music Makers and Dreamers.