Upcoming Princeton Forum In Berlin
By Carl Kruse
I am happy to share this upcoming event, which should be an enriching.  It is open to all though advance registration is required.  I will be there both days and would look forward to meeting you.
On March 20-21, 2017 the  Princeton University Global Forum presents in Berlin:
"SOCIETY 3.0+: CAN LIBERTY SURVIVE THE DIGITAL AGE?"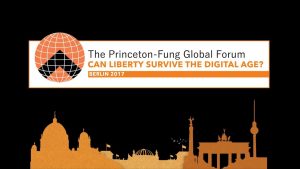 Presentations: Vinton Cerf, Chief Internet Evangelist, Google
Christopher Eisgruber, President, Princeton University
Brad Smith, President, Microsoft
Neelie Kroes, Member of the Board, Salesforce
Roger Dingledine, Project Leader, The Tor Project
David Sanger, The New York Times
And many others.
For more information:  https://fungforum.princeton.edu/ or contact me directly.
– Carl Kruse
Contact Carl Kruse – carl AT carlkruse.org
Princeton-Global Forum- Carl Kruse Site
Agenda  – Princeton-Fung Global Forum
Carl Kruse Blog Homepage
Carl Kruse on the blogs of Princeton alumni.