by Carl Kruse


Much like the favorite extraterrestrial hunting software program SETI@home, the Rosetta@home initiative leverages idle computing time across the globe to crunch data. It takes its name from the "Rosetta Stone" tablet, which enabled deciphering Egyptian hieroglyphs. Rosetta@home seeks to decipher protein structures to help find cures for devastating diseases, including COVID-19. The project may have already uncovered useful information for battling the pandemic. What follows is a summary of the goings on at Rosetta@home. I have joined the project and encourage everyone to do so.
The Rosetta@home Project
The University of Washington's Baker Lab hosts a version of BOINC (Berkley Open Infrastructure For Network Computing), which allows projects to analyze data faster with the use of volunteers who share idle computer power with the network, forming a distributed computing powerhouse. One of these projects is Rosetta@home, which aims to predict protein structure and to design new proteins.
Proteins are the building blocks of cells and understanding how they work can lead to major breakthroughs in preventing and fighting disease. Building 3-D models of proteins is a laborious process, and the rate at which new protein sequences are found vastly outpaces the rate at which the predictive models are rendered. A supercomputer or two would vastly help the process. Absent a supercomputer, a virtual one is created by piggy-backing off thousands of personal computers to crunch the data.
As of April 2020, there are 53,000 registered volunteers in about 150 different countries participating in the program. These volunteers have downloaded the BOINC software, which in turn activates itself when a computer is idle and serves as a screensaver. Instead of having flying toasters prance about a screen while a user is away, the computer does serious science. Participants get BOINC credits, which give clout and help build community between volunteers. It's a great way for non-scientists to help medical research and furthers the karma of a connected society working for the greater good.
Since its launch in 1998, Rosetta@home has developed several branches with distinct projects.
RosettaDesign – a computing approach to protein design and folding which discovered a 93-amino acid long protein called Top7 that had never been recorded before.
RosettaDock – a protein-protein docking prediction project that's known for super-high accuracy.
Robetta – an automated protein structure prediction service that predicts three-dimensional structures of proteins given an amino acid sequence.
Foldit – suggested by Rosetta@home users, this is an interactive game-like software. The game gives operators a set of controls to manipulate amino acids and looks for favorable formations. Gamers can work alone or collectively.
How A Virtual Supercomputer Network Comes Together
Volunteers install the BOINC program on their computer, which runs in the background taking up few resources. The program downloads data, crunches it, and then uploads the analyzed information back to Rosetta@home when finished. With tens of thousands of computers participating the project does an average output of 494,953 GigaFLOPS, which is just fun to say, and provides computational resources impossible to access otherwise.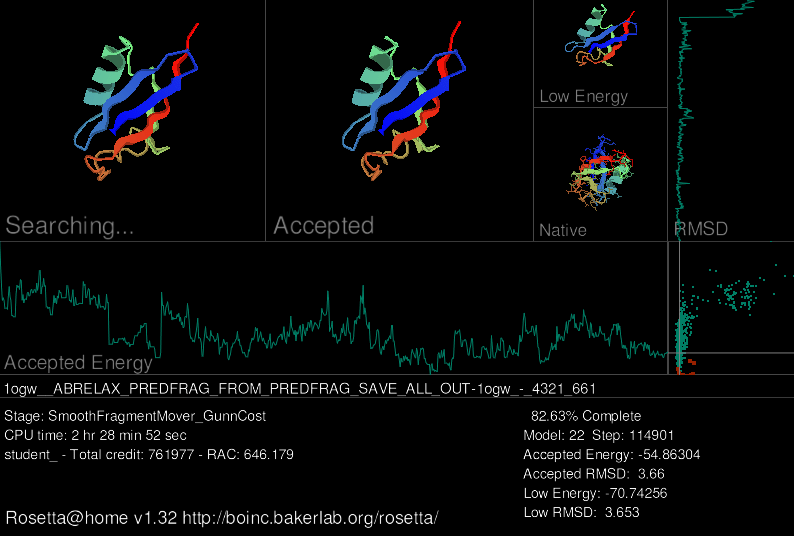 Practical Applications of Rosetta@home Findings
Disease research is one of the primary goals of Rosetta@home and the project has already generated findings that have led to the understanding and treatment of various diseases. These include:
Alzheimer's Disease
Anthrax Poisoning
Herpes Simplex Virus 1
HIV
Malaria
Cancer
SARS-CoV-2
Are Crowdsourcing Computing Projects Like Rosetta@home Safe?
If you're worried about running additional software that could slow down your computer, especially with the increased workload many are experiencing working from home during a pandemic, fear not. Computing resources are only used during downtime and volunteers are able to control how much of their system's resources they are willing to lend.
Privacy risks are always a concern when downloading and running software, not to mention sending packets of data back and forth. UC Berkeley has given assurances their software has been adequately tested for bugs and stability and all of their servers are behind a firewall for additional protection. All executable files are digitally signed offline. The program is available for Windows, Linux, Mac, and a few others. You can even use the software on Android smartphones.
Rosetta@home Participating In Key Coronavirus Research
Recently Rosetta@home focused a large percentage of its tasks on fighting the COVID-19 pandemic that's swept the globe, killing millions. Volunteers started to see a surge in RAM being used right before an announcement was made that Rosetta@home has made important advancements targeting proteins that could become possible drug therapies for treating COVID-19.
The Rosetta@home admin team recently wrote on their message board:
"Thank you to all R@h volunteers for your contributions to help accurately model important coronavirus proteins. The collective computing power that you provide through R@h helps academic research groups worldwide model important protein structures like these."
Rosetta@home started crunching numbers related to the infamous "spike protein" of the coronavirus shortly after it was genetically mapped. So far they have been able to accurately predict the atomic-scale structure of the protein. With continued success, a new protein could be designed that prevents the virus from infecting healthy cells. Isn't science awesome?
If you've been participating in the SETI@home program and find yourself suddenly without a mission now that they have pressed pause on that program, you're welcome to sign up for Rosetta@home. They gladly welcome more volunteers as they continue to allocate more resources to the COVID-19 battle. All you need is a computer or an Android phone to get started and getting set up is quick and easy. Contact me if you need help. And find me at the Carl Kruse Rosetta at Home Profile.
Together we are stronger. And together we make a difference.

Carl Kruse
Contact: carl AT carlkruse DOT org.
Our home page is at https://carlkruse.org
Also celebrating science: Happy DNA Day.
And hey! Thanks to Princeton University for including us in their list of alumni blogs. See Carl Kruse.
Find me on Rosetta here.