by Fraser Hibbitt and Carl Kruse
Einstein's house in Princeton, New Jersey saw some of the most brilliant minds of the twentieth century. The little unassuming place stands today as private property due to the expressed wish in Einstein's will that the house be not turned into a museum or memorial. The Historical Society of Princeton, however, did manage to acquire his furniture.
Einstein was aware of the fame he had gained through his revolutionary theories in physics, and that his signature appearance seemed to symbolize the image of a genius – something he did not wish to burden the house with. The small house now exists between being a home and an unofficial heritage site. Indeed, to those interested in the history of ideas, Einstein's house is easy to find with a quick Google search showing it at 112 Mercer Street.
The fact that Einstein made this point in his will tells us something of the man; it seems to keep alive something of the unaccomplished. It was in his study on Mercer Street where Einstein felt compelled and determined to prove what he felt to be the workings of reality, and it is here now that someone else is also navigating their reality, though perhaps with less vigor and proof. Where, and how, that procedure ends are great unresolved questions.
Houses of great minds populate our cities and command much respect. They seem no longer to exist as just a piece of architecture but one pervaded with meaningful space. In Vienna, Mozart's house is sign-posted (Das Mozarthaus), and tour guides don the eighteenth-century attire for the enthusiasts; Freud's house in London has been turned into a museum with the famous psychoanalytic couch on display.
The creation of a museum or a place of historical significance allows for expansion in several directions. Freud's house can be a place of learning, a place for art exhibitions, and a specific location in which to experience historical significance. It allocates a space where everything can be centered around this man or woman; stopping time in a sense and completing their work. Everything is imbued with significance; chairs, drawers, a collection of books, as if these made the person in question. Somehow this space we are in gave rise, or channeled, this great mind.

It is quite reasonable that this would be the case; there are so many unknowns in a person's life. How did they travel; what shops did they go to; was there something special to them on a familiar stroll; what did they think returning to this house? All these, and more, are specifically confined to the outside of the house, but the same questions could be asked about the inside. The landmark, their house, helps us to refine our focus away from such musings, sticking to what we know best about the person – the facts and physical objects of their life.
I don't think it does much harm however to ask questions which engage with what can be called the unmarked side of historical significance. On a closer inspection, it doesn't seem readily true that the museum or memorial tells us the whole story. Actually, there seems to be a passivity in our experience of the museum. The amount of significance and information we find in these places is no doubt overwhelming, but this can be lessened if we know what we are there for.
The contemporary Psychoanalyst, Adam Phillips, seemed to have gained much from visiting Freud's house and viewing his great collection of antiquities. He could imagine the patient lying on the couch, seeing these figures, as they underwent the innovation of free association. This is quite unlike any experience we are offered by the museum, and it is precisely because Phillips was engaging with history in a personal and sophisticated way.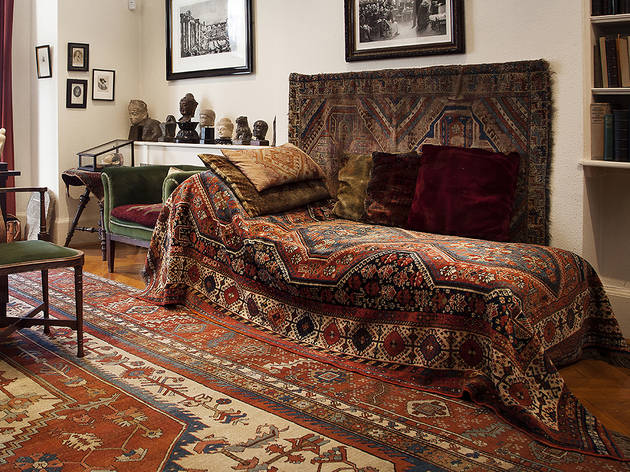 If we are outside the house, away from all its imposing objects of significance, our connection to history may take on this personal engagement. We may find something of worth in our private excavations. It is akin to a sense of discovery that which brings out the active in us; paying silent respect to an author, thinker or creator, who has touched our lives. We needn't, like the nineteenth-century German businessman, Heinrich Schliemann, obsess over getting to the bottom of our respect – after a lifelong infatuation with the works of Homer, he decided to dig up Troy, and later Mycenae, finding the famed 'Mask of Agamemnon'; Schliemann's Troy turned out to be wrong and his methods of excavating destroyed much archaeological material.
If we now return to think about Einstein's decision about his house, it strikes us as almost comforting. One can merely walk by and take in the sight of an abode which housed the man who revolutionized modern Physics. It gives the opportunity for a personal connection not readily available if we were in a museum; here, we are forced to search for it ourselves. We are not permitted to step inside, but only to look and wonder from the street.
This street view grants a space, and moment, of its own. It offers the viewer a time to be with themselves in the presence of this silent spectre. The viewer may wonder about the house, about the driveway, and appreciate something rather hard to put into words. It seems, fittingly, as our attention is on Einstein, to do with time. Einstein's presence has been and gone, but with this house and our silent communion, his absence appears to us at our own pace. It is here we realize that Einstein's work, as with any great thinker's, is not completed.
The town of Princeton has been sought out by those interested in the history of physics and mathematics, and for good reason as it is home to many significant names. Figures such as Gödel, Von Neumann, Zworkyn, Feynmann, and Alonzo Church. Enthusiasts have created a route in which you can view all their former houses in a day, the so-called "genius route," which can be viewed here: From Genius to Genius – A Walking tour in Princeton, offering a prime example of this silent and personal connection to places of significance without the formality of a museum.
This is not to discount a museum constructed in celebration of a great mind, but to realize that it is not the only way to pay respect or gain an understanding. A museum reminds us at such a time they were here, and all the facts we like; these places of unofficial significance can renew why we found significance in this person, how we too are of the same history, and provide us with a few inconclusive thoughts as we carry on with our day.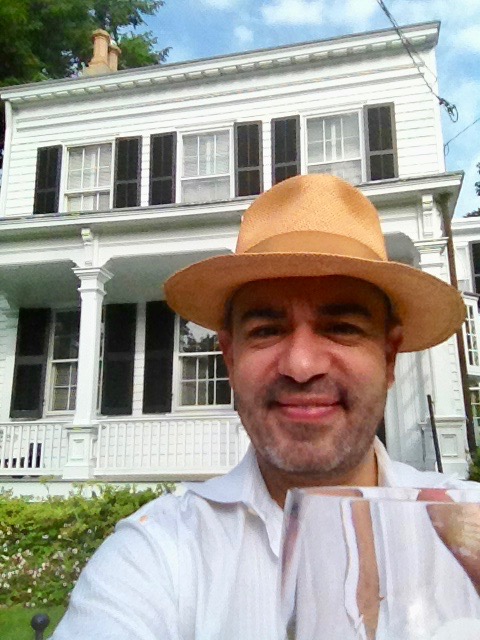 P.S. Whenever in Princeton, Carl Kruse, who actually studied at Princeton, tries to swing by and linger in front of Einstein's house and raise a glass of wine to the great man, always secretly astonished that one of the most extraordinary people lived so simply.


============
Homepage: Carl Kruse.
Contact: carl AT carlkruse DOT com
Other posts by Fraser Hibbitt include Winter Solstice and a SETI Update.
The blog's last post was for Martin Luther King Day.
Speaking of great minds, how about great books. If you are on Goodreads stop by and say hello:
Carl Kruse on Goodreads.
Carl Kruse is also on the academia network here and on the blogs of Princeton alumni over here.