Here's to RESPONSIBLE CHARITY and their work in Kolkata, India
by Carl Kruse
I have written before about my friend Hemley Gonzalez's organization, "Responsible Charity," (Carl Kruse blog) and the work done helping those less fortunate in Kolkata. Unlike other aid groups, Responsible Charity is secular and humanistic, where science, reason and compassion come together to empower people out of poverty.
Hemley started Responsible Charity following a disappointing 2008 volunteer stint with Mother Teresa's Missionaries of Charity, where he discovered calamitous conditions and woeful attention to the poor from what was one of the best known organizations in India.
Determined to make a difference, Hemley left his job in the U.S.A. to go full-time into building Responsible Charity. The group today focuses on four areas in its efforts to help people out of poverty: education, self employment, sustainability and planned parenthood. I can speak first hand of the fantastic work they do in dramatically changing the lives of the poor.
I invite you to learn more about Responsible Charity, and if you can spare a few dollars to help them, they will put them to good use to make the world a better place. I have organized fundraisers for them in at my house in Miami and donate monthly to their work. I know of no other organization that delivers so much with so little, fueled by the Ghandian vision that you should be the change you wish to see in the world.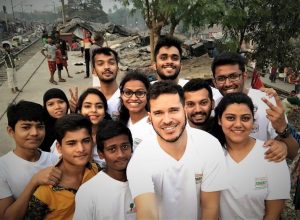 Responsible Charity is organized as a nonprofit organization under U.S. law and contributions are tax-deductible to the extent allowed by the U.S. Tax Code (or your local laws). Detailed financial statements and discussion of how resources are used are found on Responsible Charity's website.

www.responsiblecharity.org/donate
Carl Kruse
Email: info AT carlkruse DOT org
Carl Kruse Home Page