By Jaymie Hilder for the Carl Kruse Nonprofits Blog

It's not uncommon for kids to be born with missing or under-developed fingers, hands or arms. These differences in development are often painless, but can make life hard later. Handicapped children often are bullied, for a start, and they can wind up feeling left out or self conscious.

For many of these kids, a prosthesis is out of reach. Prosthetic limbs can cost tens of thousands of dollars, and take months to produce and fit. It's an expensive and time consuming process for an adult. But when the patient is a child of five, an expensive limb that takes four months to build may no longer fit when completed, and even then they will outgrow that limb in short order. The cost is prohibitive enough for many adults who use the same prosthesis for decades. For a fast-growing child the situation is untenable. Many families simply can't afford it and their children go without.


Putting Control in their Hands
Enter the international maker community, people who recreate products from discarded plastic, silicon or other materials from high-tech industries. At the forefront is e-NABLE, a global community of makers who commit time and machinery to print prostheses for those in need. They are loosely lead by cosplay enthusiast Ivan Owens, who in 2012 developed a cheap pulley-and-cord prop hand for a costume. A carpenter from South Africa contacted him, interested in working together to build a prosthesis for fingers he'd lost in a work accident. Their collaboration resulted in a cost effective, low fuss prosthesis that was strong enough for a tradesman, easy to repair and custom fit to his specific disabilities.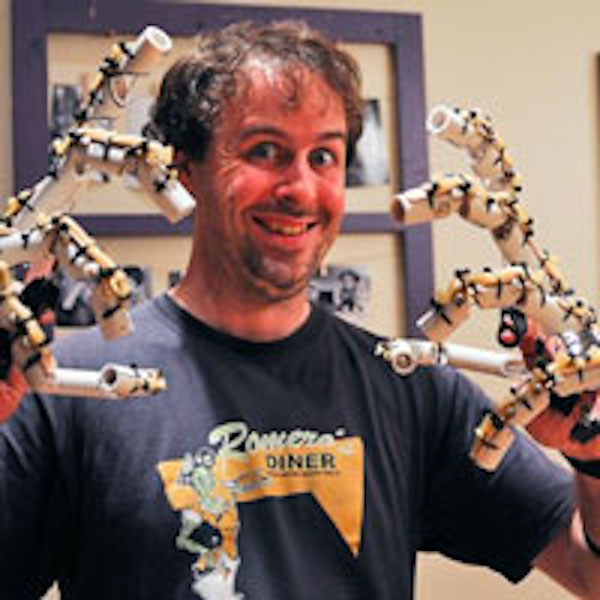 Over the course of their collaboration they met with the family of a five year old boy named Liam who had been born without fingers on his right hand. Conventional prosthesis, with their high cost and slow turnaround, were useless for a high energy, fast-growing kid. The pair developed a simple four fingered limb made of aluminum, a simple gift with a long legacy.


Open Source Design and a Community of Builders

Owens quickly realized that Liam was going to outgrow the custom hand he had built, and that he couldn't fly from the USA to South Africa every few months to refit and rework the hand. So he came up with an ingenious solution involving 3D printing. He designed a new hand and sent both the pattern and a donated printer to Liam's parents. They printed and assembled it on site, and the kid had a new limb custom fit in hours, rather than months. The new hand was lighter than the first, too, a critical advantage for a small child.
It became the first of many. Today the e-NABLE community has chapters of volunteers in Europe, Japan and Australia. They print, assemble and distribute parts and prosthesis all over the world, helping kids take up new hobbies, help at home, and reach the same sort of mischief as their peers. The community centered approach at e-NABLE has allowed their chapters to produce adult size limbs too for people in need in war zones and other areas of need. Patterns for new limbs and parts are released with creative commons licensing, free for anyone to use, and the speed at which a new prosthetic can be produced means young users can always have a limb that fits and is right for their growing bodies. (More on e-NABLE here: http://enablingthefuture.org/)


The Pathway from Lid to Kid

The newest development in this story is creative people finding ways to recycle waste plastics for use as filament. Once the initial outlay for a 3D printer has been met, a key ongoing cost is the filament itself. Recyclable plastic is so abundant that its disposal is a problem itself. Recycled filament also alleviates environmental concerns of using virgin plastic for a limb that may only be used a few months before being outgrown and discarded.
in 2018, the Australian community group Envision came together with hairdresser-cum-recycler Bernie Craven of Waste Free Systems to develop a technique that turns discarded plastics into printer filament. With the help of the community group Lids for Kids they collected more than two million milk caps for processing, as well as shampoo and conditioner bottles sourced by Craven through a network of environmentally conscious hairdressing salons. (Check out Lids for Kids on Facebook)

The bottles and caps are first sorted, then carefully cleaned and fed through a shredder. Next the plastic is melted, and finally run through an extruder, creating filament. The technique is still in development but its proponents are hopeful that the printed limbs can be melted down and turned back to filament once they've been outgrown. The vision is to create a circular economy, producing a fully sustainable prosthesis. Envision has recently stepped back from the project, but Lids For Kids and the community groups they inspired are still working to gather the lids and turn them into filament.

The Gift of Circular Economies

It's just one way that circular economies of compassion spring up from the strangest of places. Because a steampunk enthusiast blogged about a neat costume piece, a retired hairdresser half the world away is building limbs for kids from old bottles. Creative uses of old materials in new ways, with the help of emerging technology, have the possibility to have a long-lasting positive impact. Who knows what great things those kids will get up to in the future, thanks to their new sustainable hands?
==========
Homepage: https://carlkruse.org
Last blog post: Rocky Mountain Institute Update.
CONTACT: carl AT carlkruse DOT org
Find Carl Kruse also on Goodreads.