SOBR and His Dancing Silhouettes
by Hazel Anna Rogers for the Carl Kruse Blog
I grew up dancing. I started in ballet, which I quit at around the age of 12, but took up again after a stint of street dance in my early teen years. When I moved to Leeds at 18, I began regularly dancing at a Freestyle dance class, a complex meld of advanced street dance along with some 'whack', hip-hop, and jazz routines. Here in Brighton I've forayed into the worlds of swing, salsa, and bachata. Dance has always been a part of my life, and always been something that brought me intense joy and freedom through movement and connection with other dancers, without the need for words. I would arrive at a class, or even a rave, and regardless of my mood come out smiling and laughing in delight, enraptured by the music and its effect on my body.
This is where SOBR comes in, an artist who has conjured this essence of dance on the streets of our biggest cities, namely Berlin, Paris, London, Marseilles, Rome, and more. Huge paste-ups of black, white, and grey bodies swaying gracefully to the rhythm of some unheard beat appear on dilapidated buildings, street corners, and are hidden in little coves of street art shielded from the road.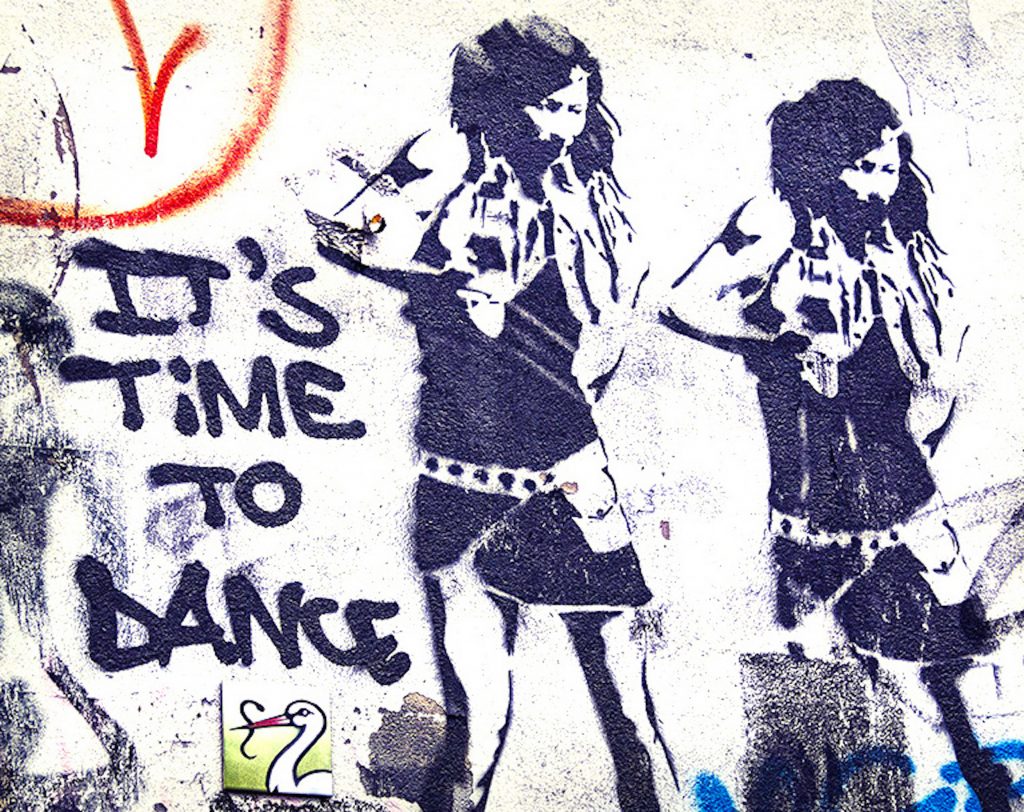 Photo: Carl Kruse (Berlin)
The dancers are of all shapes, colors, and genders, all joined by the power of music. SOBR encourages us to seek out these mysterious figures, each one held in a moment of ecstasy, their body in infinite harmony with the music only they can hear. And around these ecstatic images, SOBR has placed yellow tape with the slogan 'IT'S TIME TO DANCE//' repeated over and over again, as though tempting us to join in with the joyful movement of his silhouettes.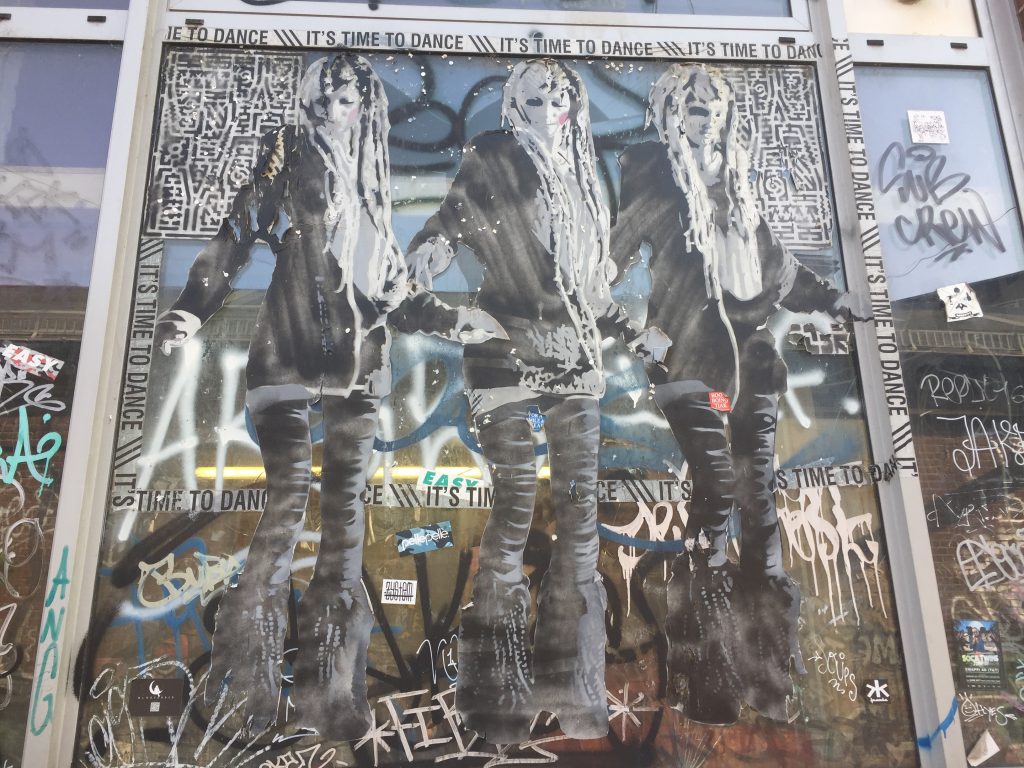 Photo: Carl Kruse (Berlin)

It feels as though SOBR is conveying a message to the city dwellers that walk past these dancing characters day after day, a message shouting of freedom that starkly contrasts the settings of his pieces. A grey wall becomes a rave scene, a viaduct becomes a vibrant club, an old building becomes a house party. By placing moving figures on static pieces, SOBR transforms the city into a living, breathing thing, capable of dancing along with its inhabitants. The city becomes a maze of possibilities, a sentiment more resounding now than ever.
During the current world crisis, SOBR's figures hold more social and political importance than ever. We can no longer go out dancing; our pubs, clubs, and bars close at 10pm. Dance classes are online, or worse, not on at all. Yet these silhouettes keep on dancing while the world around them stands still. SOBR's art is often accompanied by a square image, a sort of maze of intertwining lines and shapes in black and white which, he says, are a visual representation of the techno music that his dancers are moving to. It looks like a huge QR code that one could scan in order to become part of this silent fiesta. With the arts facing an unprecedented catastrophe in the form of COVID-19, these images seem to create a space of hope for the future of the art world and all associated with it. The paste-ups carry with them the message that 'we will dance again' and it is this that makes them so very impactful.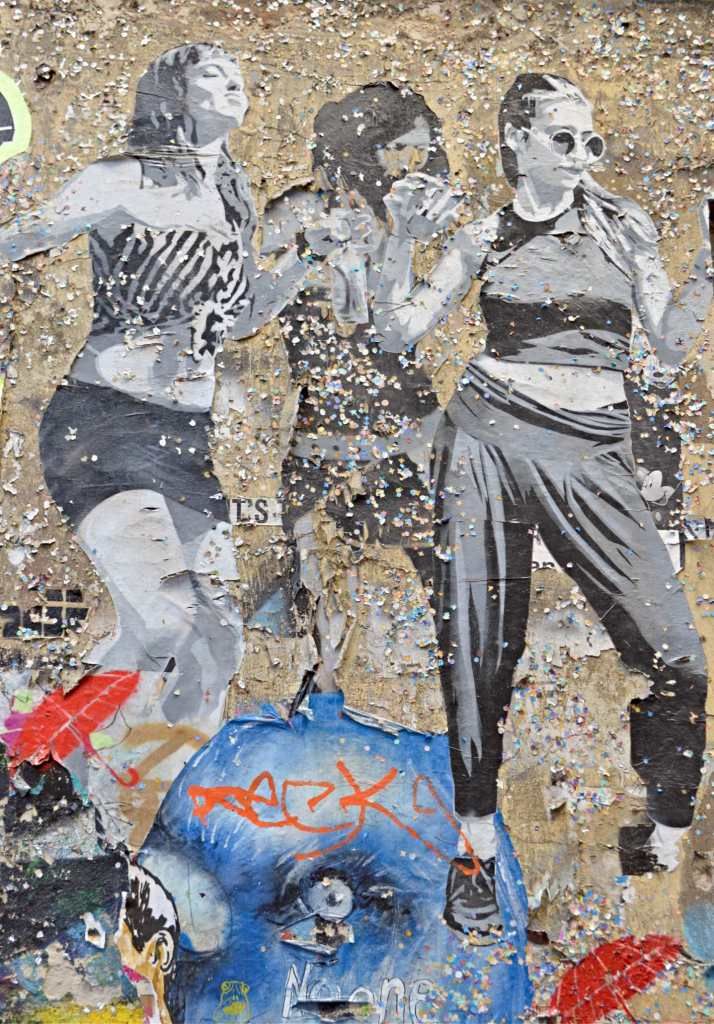 Photo: Carl Kruse (Berlin)
So, who is SOBR? We know very little about him, except that he's French, and clearly a fan of the techno music and rave scene. The paste-ups are images taken from raves, his only criteria for a model being that they dance with 'grace'. SOBR's real name is unknown, and his purpose is elusive. For me, this makes his artwork all the more intriguing. If he wasn't seeking notoriety through his art, what was he doing?
One of SOBR's pieces, named 'Auguststrasse' on his website, depicts people dancing in the windows of a boarded up concrete housing block. It reminds me of the start of COVID, when people played music on their balconies and sung together into the street, joined by their collective discontent. SOBR's people look elated, crazed, and free, and their physicality becomes irrelevant in the presence of this contagious happiness. They are the poster kids of the future, a future hopefully filled with music, movement, and freedom – for all of us. Through art, SOBR reminds us of the joys of life, even in the hardest of times. So prep your living rooms, gardens, parks, and beaches. Who needs to wait for a club to be open when you can dance wherever you are?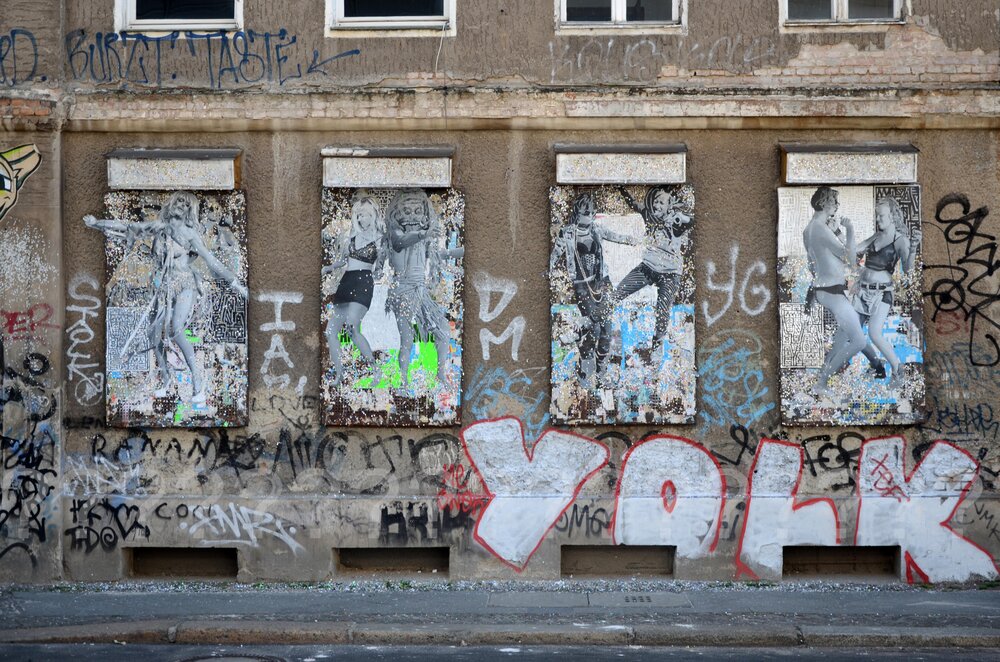 Photo: Carl Kruse — SOBR, "Augustsrasse," Berlin
It's time to dance!

================================================
Blog Homepage: Carl Kruse
Contact: carl AT carlkruse DOT org
More on SOBR here.
Connect with Hazel at https://badessay.com/
Berlin art on walls on my other blog.
Former blog post: Somewhere Over the Rainbow.
Another post by Hazel Anna Rogers is on captive breeding.
A favorite of Carl Kruse in Berlin is the "Boros Bunker."